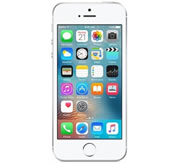 The iPhone SE is at the time of writing the latest iPhone model on the market. It takes the popular form and style of previous iPhone models such as the iPhone 5s and combines the greater performance levels of the latest premium iPhones.
If you are looking for an iPhone that performs extremely well and prefer a smaller screen like the iPhone 5s this would be one of the best overall options as it combines value with style and performance.
Contracts start at under £20 per month with a free iPhone SE included. Check out the latest deals below.