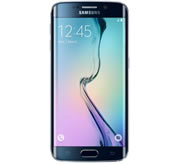 The Samsung Galaxy S6 Edge is the stylish phone from Samsung that contains the revolutions screen design which pushes the display to the very edges of the phone design using Samsung's "Edge display tech". This gave the phone a genuine innovative feel and made full use of all the screen real estate that was possible.
A premium android phone which took the award winning Samsung Galaxy S6 to new levels with this Edge model.
Performance is best in class, the camera is one of the best of any phone on the market and the build quality is exception.
Check out the latest Samsung Galaxy S6 Edge contract deals today.